Your snazzy holiday apartment in Natz-Schabs
Have you been longing for a time-out in the comfort of your own holiday apartment? How about an apartment with a high-quality kitchenette, a cosy living area, inviting rooms, and an impressive panorama? Then a holiday apartment in Natz-Schabs à la Kessler's is the perfect solution for you.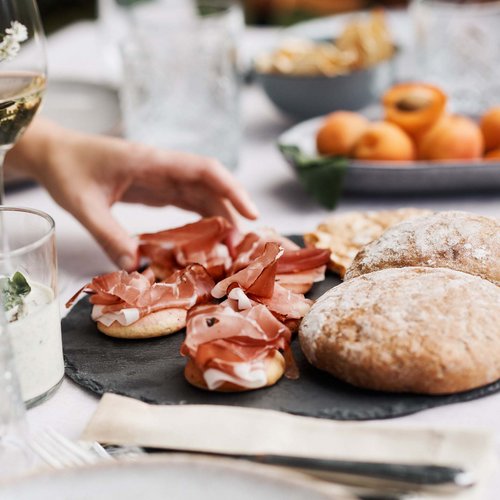 Breakfast basket with lots of delicacies
(can also be cancelled):
Choose your holiday apartment in Natz-Schabs and off you go!
Your apartment near Brixen offers not only spacious rooms and stylish furnishings made of natural wood and local loden and linen fabrics but also much more. Unwind in the shared Finnish sauna in the garden with a relaxation area, get refreshed under the outdoor showers, and take a dip in the free-standing pool. Our breakfast basket contains excellent local treats and some homemade products and is the best way to start your day. You can also ask to cancel the breakfast basket if you wish. This way, every day in your holiday apartment in Natz-Schabs becomes an unforgettable experience. Each apartment is accessible by lift.
Have you found the holiday apartment you've been looking for? Great, then send us a non-binding enquiry and get ready for your heavenly holiday. We look forwards to warmly welcoming you to the panoramic apple plateau of Natz-Schabs. You will find exclusive luxury chalets in South Tyrol in our accommodation – it's the perfect place of retreat for couples. Visit our chalet in South Tyrol with a sauna and regain strength.