... how you should spend your holiday in Natz-Schabs? Then we have some exciting tips for you here! Hikes, tastings, themed evenings, and much more await you! But first, we will present you Kessler's specials around our mountain lodge.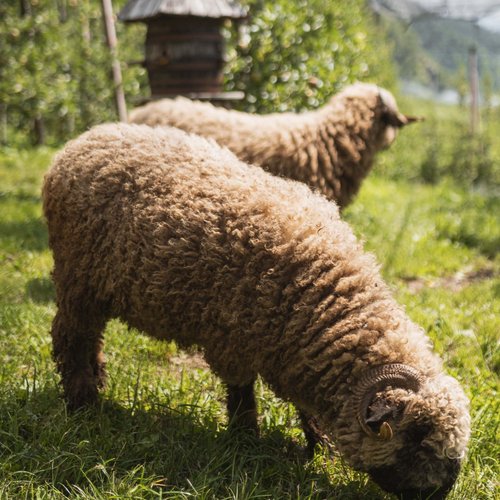 Animals convey peace and gentleness. And that's exactly what you can experience with your little ones at our petting zoo. Take care of the cuddly pygmy goats and rabbits as well as the perky chickens and feed them vegetables from our garden.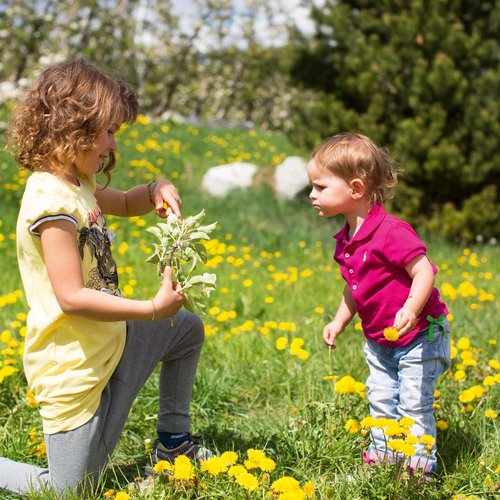 The scent of herbs and flowers
Our gardens are a paradise for all hobby botanists and passionate cooks. Enjoy the many colourful and fragrant flowers that turn our garden into a bright landscape and bring a smile to your face. We are especially proud of our herb garden, which you are welcome to help yourself to. The aromatic herbs give fantastic flavours and that special South Tyrolean touch to your dishes and ours.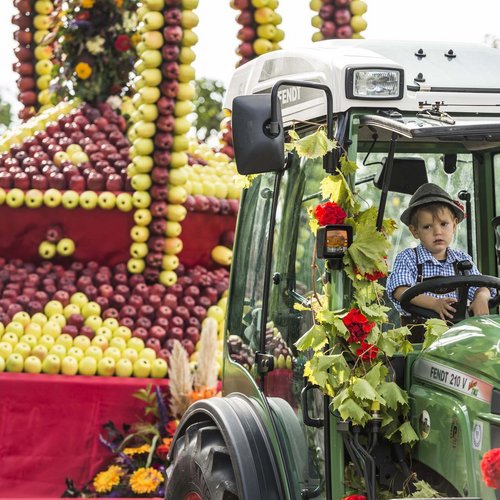 The South Tyrolean power fruit
We are talking about the apple, of course! Fun fact: The queen of South Tyrolean fruit varieties gives the Natz-Schabs apple plateau its name. We take care of our surrounding apple orchards with dedication and process the juicy apples into juice, apple chips, and delicious strudel – we are a fruit farm through and through! All these products are available in our farm shop. If you would like to learn more about the steps involved in apple growing, Rudi would be happy to explain everything you need to know during your next stay at Kessler's Mountain Lodge.
Did you know ...
... boilermakers and coppersmiths use a processing technique called "cold forging"? This means that the objects are formed almost at room temperature, bending, hammering, rolling, and pulling.
Reach the South Tyrolean sights in no time
Natz is the perfect starting point for all kinds of excursions – whether you'd like to go shopping in Brixen or Klausen, visit the glacier mummy Ötzi (The Ice Man) or the natural history museum in Bolzano, or treat yourself to a scenic hike to the most popular panoramic spots, such as the Alpe di Siusi/Seiser Alm or the Sass de Putia/Peitlerkofel (which, by the way, is perfect for a sunrise hike!). Plenty of sights are just around the corner:
Bolzano: 45 minutes' drive away
Brixen: 10 minutes' drive away
Klausen: 20 minutes' drive away
Bruneck: 40 minutes' drive away
Alpe di Siusi/Seiser Alm: 45 minutes' drive away
Val Gardena/Gröden: 40 minutes' drive away
Sass de Putia/Peitlerkofel: an hour's drive away
Alpe di Rodengo e Luson/Rodenecker-Lüsner Alm (Zumis car park): 30 minutes' drive away
Rio Pusteria/Gitschberg-Jochtal skiing and hiking area: 20 minutes' drive away (the shuttle bus to the ski area stops right at our front door!)
You can get more tips directly from Renate and Rudi. And the best part: Rudi will gladly take you on a sightseeing flight over South Tyrol – yes, he has a pilot's license! Would you like to enjoy a holiday without your car? With the Almencard, which you'll receive free of charge at check-in, you can use all public transport and cable cars in the Rio Pusteria/Gitschberg-Jochtal holiday region, meaning you can comfortably leave your car behind!